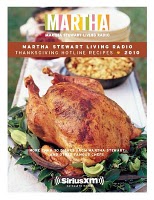 Everyone loves Martha Stewart, well most people do anyway. And this is all about a free e-cookbook from the famous/infamous lady. this promo comes in combination from her as well as Sirius Radio.
The cook book is entitled "2010 Thanksgiving Hotline cookbook" and is stuffed full of recipes for every facet of a meal, from starters to desserts. You know what looking at the book you will also notice other famous chefs including Wolfgang Puck.
There are 2 ways to get the book, the first is a download of the entire book (63 pages), or for picky people just download chapters. Unfortunately you don't get a nicely printed book, but an ipad would be perfect or just print them off. If you opt for the download then you will need a PDF reader to read it, most computers will have some sort of reader, so don't worry about it too much.
Download Free Cookbook
~ The coupon or offer is no longer valid, please use the search feature at the top of this page to find new offers