Free Malcolms Hot Chocolate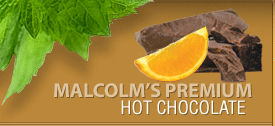 We've found another great freebie for you guys. Right now you can get 4 sachet samples of your choice of Malcolm's Premium hot chocolate. You only need to go on their website and tell them how you liked your hot chocolate. And you also need to select a store where you did purchase it from. And for your time and effort, you then get to choose 4 sachet samples that they will send to your address.
So get ready for winter time that is coming so fast and order your free hot chocolate! You might want to hurry up as this freebie is valid only while supplies last, so we never know when this is going to expire. Just click on our link below to order your free samples. We've also put the link for their store locator so you can find the closest place where they sell Malcolm's hot chocolate as you need to tell them where you bought it.
Order your free sample of Malcolm's Premium Hot Chocolate