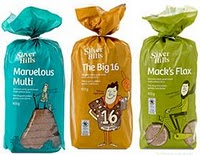 We all love bread (well most of us) and we all like free stuff so this promotion is a tasty one for all. It`s for a free loaf of bread for Canadians and Americans. Use the link below to answer the survey to get your free loaf and keep reading for more info about this new bread. It sound like wonder bread, super healthy which translates as only one thing in my head (it tastes horrible), but we will see after we have actually tasted it.
Click here to get your free loaf of bread
It takes 2 minutes to fill out their short survey to get a free coupon for a loaf of Silver Hills Sprouted Bakery bread.
Silver Hills Sprouted Bakery, sprout organic grain for up to 36 hours. This sprouted grain (which still contains the entire living kernel) is then mashed into a dough that forms the base of their bread.
By sprouting the grain they increase the nutritional content greatly (retaining all the bran, germ and endosperm, and providing up to three times the fiber in a slice).
Offer only available where it is sold and only in these provinces:
British Columbia, Alberta, Saskatchewan, Manitoba, Ontario, Quebec, New Brunswick, Nova Scotia, Yukon.