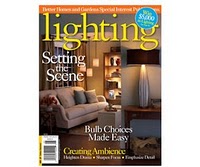 It's only one free copy, but it may be all you need to get fulfill your lighting needs. This is the new 2010 edition of Lighting magazine, and if you cant wait for the freebie to arrive it's also on the newsstands and in bookstores for the grand price of $6.99. But I prefer to wait for freebies.
Lighting magazine is produced by Meredith Publishing, the same company that publishes more than 200 titles including Better Homes & Gardens, Country Home, Traditional Home, and Ladies Home Journal.
Notes: Add the item to your cart at the bottom of the page & complete the checkout process to get your free issue.