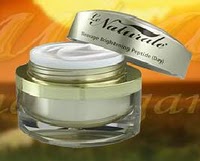 lenaturale.com are giving out some of their products as free samples. While they only offer free shipping for products you 'buy' in the U.S you can get this freebie delivered in Canada for free.
This freebie from them is for the Le Naturale Skin Care product. This is what they have to say about their creme;
"an all natural skincare line manufactured with natural and organic certified ingredients and targeted toward high-end consumers".
Like many expensive cremes on the market they claim this product was developed with the intention of preventing some of the visible signs off wrinkles and aging for day to day use. Available without prescription.
To get the free sample you need to join their mailing list (you can opt out any time by clicking the 'unsubscribe' link at the bottom of their emails).