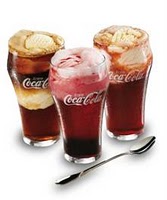 Dennys is giving away ice cream floats from June 20th to June 27th as a nice treat to dad's (for fathers day). You need to print off your Denny's father's day e-card from this Denny's facebook promotion to claim your freebie. The card also allows for a little bit of customization, so you can create a real father's day card and then just send it to him via facebook, email or print the thing out.
The coupon (inside the father's day card) let's dad choose any float, currently Denny's has only three flavours which are Cherry Coke Float, Root Beer Float or Red, White and Blueberry Float.
Like most promotions this promo is only valid at participating locations and apparently you also have to purchase something from the 'Value Menu' or an entree from the normal menu to claim this freebie. I hate freebies with catches, but all the same if you love Denny's then you might as well use the promo.
Remember you may not want to use your personal facebook account, use your second one (if you have one, if not then create one)