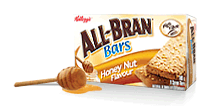 A lovely tasty freebie for you all today. This one comes in courtesy of All-Bran for their nutritious All-Bran Honey Nut bars. Apparently these little treats are fiber rich and they will also send you a coupon for 50 cents off a box of All-Bran Bars.
Request your free Honey Nut All Bran Bar
Your sample will take about 4 – 6 weeks to arrive. Available in Canada.