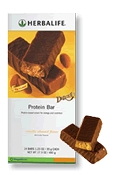 While this freebie get's you one of 3 choices of freebie (but the one you will probably want is the Protein bars) from Herbalife, you do need to enter a valid email and phone number. I have no idea why they need a valid phone number for a freebie, I hate when they do that, so it's up to you if you want to claim it.
Get your free Protein Bar here
This is what they have to say about their protein bars: "These rich and chewy bars are packed with essential vitamins and 10g of healthy protein to keep you feeling full while helping build and maintain lean muscle. Three popular flavor combinations covered in rich chocolate coating satisfy your cravings.
Key Benefits:
– 10g of protein to sustain your energy and satisfy your appetite
– Vitamins E, B6, B12, Niacin, Thiamin, and Riboflavin
– Zero trans-fats
– No artificial sweetners
– Just 140 calories per bar"
You can choose from 1 of 3 products for free; the first is a protein bar which is good for weight loss, the second one is liftoff and is good for fitness (it looks like a drink) and the third one is a toner for skin.