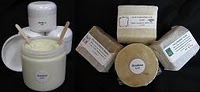 Healthy Environs are giving out free samples of their hand made soaps and body butter. It takes a couple of minutes to fill out their free sample order form and you get choices of what you want, remember the samples are limited so don't be upset if they run out of stock.
This is what they have to say about themselves: "Healthy Environs is dedicated to providing products, services and educational events that improve the environment of every person we meet."
Order your free soap and body butter
The Hand Made Soap/Body Butter products were created to improve your skin with rich emollients, with fragrances to delight you and to pleasantly scent the air around you.
These are the samples you can choose from:
● Moonflower Body Butter
● Moonflower Soap
● Almond Pattie
● It's Patchouli Honey
● Cranberry
● Gardener's
● Juniper Berry
● Old Fashioned Lye
● KaLeiDaSoAp