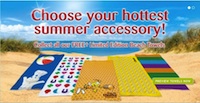 I found this really cool promo from General Mills where select boxes of cereals will allow you to get a free beach towel. When grocery shopping, look carefully for the specially marked boxes as they contain a PIN code that you need to enter online to receive your freebie. No shipping fees to be paid! And the limit is 10 free towels per household, which is a lot I think. There are 350,000 towels available during this promotion, so don't forget to look closely for the special cereal boxes.
Here is the complete list of participating cereals brands: Apple Cinnamon Cheerios, Banana-Nut Cheerios, Cheerios, Chocolate Cheerios, Cinnamon Toast Crunch, Fibre 1 Raisin Bran Clusters, Fibre 1 Honey Clusters, Fibre 1 Original, Fibre 1 Shredded Wheat Brown Sugar, French Toast Crunch, Honey Nut Cheerios, Lucky Charms, Nesquik, Oatmeal Crisp Almond, Oatmeal Crisp Maple, Oatmeal Crisp Triple Berry, Oatmeal Crisp Raisin, Oatmeal Crisp Vanilla Almond and Reese Peanut Butter Puffs.
The towels look pretty funky I think. I would like to get one of these towels and to use it during my holidays at the beach this summer. If you already have enough towels you can always choose to donate yours to the Tim Horton's Children's Foundation instead. I'm guessing they are going to use it during the summer camps for kids. Have a look at the following site for more information, note that it wasn't working when I wrote this post as it was probably too busy.
Get more information about General Mills free beach towel promo