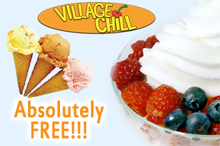 Our friend Sabrina over at Deliverthedeals.com sent us a heads up on a great freebie offer (if you live in the Toronto area). Here's the scoop.
The daily deals site EverybodyBuys.com (yes another daily deal site, these things are never going to end) are giving away free coupons for customers to get a Free Frozen Yogurt or Gelato at "The Village Chill", located at 3 Manor Rd. E. Toronto, Ontario Canada. From a quick glance there is just over a day for these freebies to be claimed (it will probably expire on the 8th or 9th of June), however the coupons can be used at the store until June 30 2011.
Obviously this coupon is a printable coupon. It's fairly rare to see an offer for a free coupon on a daily deal site. I assume you have to sign up to their newsletter, but again I am positive customers can unsubscribe at any time. Remember this deal is only good for the Toronto location.