Free EcoNugenics Sample Pack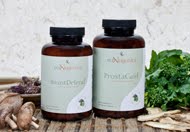 EcoNugenics are giving away free sample packs. I'm not sure what's contained in their sample packs exactly. But you only have to join their mailing list to get the freebies (you can unsubscribe later on if you don't like their emails). Depending on where you live you may be classed as an international customer, if so you will need to call their customer care team at at 707.521.3370, or send an e-mail to customercare@econugenics.com to get your free samples.
As far as I can tell their site is relatively small in size and the number of visitors they get. Having never heard of their products before I decided to do a tiny bit of research, this is what I dug up. They are a US company, started by a doctor in order to make health products made with a bit of ancient herbal remedies and a bit of new age technical wizardry. Their products range from PectaSol-C to promote optimal cellular health (their flagship product) to Integrative Digestive Formula which is meant to be an effective supplement that promotes healthy digestive function.