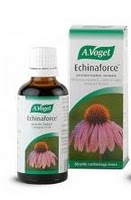 Another day another freebie.
Today's freebie comes from avogel.ca for the freebie Echinaforce, now having never heard of either of them before I cannot vouch for them. If anyone knows if either the website is decent or the product does it's job please make a comment below to fill us all in.
Echinaforce as the site claims it to be is "The World's Best Researched Echinacea!" , but not knowing what Echinacea actually is, means that this statement means nothing to me whatsoever. So customers can get a free product, no purchase necessary (we don't know when the promo will end though). Use the link below to print of the form from their site to claim the freebie. Allow 4 to 6 weeks for shipping.
Note: The product is meant to "protect your family against colds and viruses".
Print your mail-in rebate form for your free Echinaforce product
~ The coupon or offer is no longer valid, please use the search feature at the top of this page to find new offers