Free Drink at Mac's Canada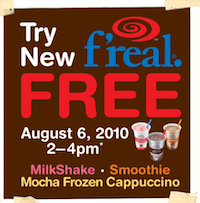 Mac's Canada (aka Couche-Tard in Quebec) has an awesome freebie running form 2-4pm on August the 6th 2010. The promotion allows customers to claim a free Milkshake, Iced Cappuccino, or Smoothie. Now not every store is running this promotion, and certainly not in Quebec but there are lots that are doing it in Bc, Alberta, Manitoba and Saskatchewan.
There are no strings attached for this freebie, so go get your specialty drink for free on the 6th!