It's rare that truly great freebies roll around and Kobo's one is definitely falling into the exception category as for a very brief period of time, Chapters' section dedicated to ereading is offering readers the chance to download The Da Vinci Code in an electronic format for absolutely free. Whether you have already read it or are simply curious with regards to what all the fuss is about, it's definitely worth a download, especially since it won't require a trip to the checkout lane.
Basically revolving around the murder investigation performed by a symbologist, Robert Langdon, who pairs with a cryptographer, The Da Vinci Code focuses on the controversial Holy Grail legend along with Mary Magdalene's role in Christianity's history.
Free download of The Da Vinci Code here
Expires: 24th March, 2013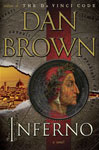 While the majority of people are familiar with The Da Vinci Code, especially in its big screen format starring Tom Hanks, not many are aware that Angels & Demons was actually the first in the series. Not only that, but The Da Vinci Code was also followed with The Lost Symbol, another highly worthy read.
As such, it's no surprise that Dan Brown has continued the series with his upcoming 4th book, Inferno, which can be pre-ordered both in hardcover format as well as digitally.
Even better is that all of the Dan Brown books mentioned within this post will allow for the chance to save money given that you can save $5 on orders of $30 or more.
Have you pre-ordered your copy of Dan Brown's Inferno yet?