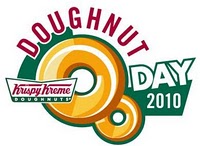 Today (4th June 2010) it's the "National Doughnut Day". Little did you know that on the first Friday of June each year Canada holds this event. It was actually founded by the Chicago Salvation Army in 1938 to honor the women who served donuts to soldiers in World War I. And in honor of this event there are loads of stores that offer free donuts. Here is where you can get;
Store: Krispy Kremes
Offer: One free doughnut per customer, no purchase necessary.
Notes: If you also sign up for their mailing list (join the Krispy Kremes email list here), you'll get this coupon "buy one dozen, get one dozen free on Original Glazed Doughnuts". Valid through the end of the month.
Store: Dunkin' Donuts
Offer: Every customer get's a free doughnut of their choice, with the purchase of any beverage, limit one per customer.
Store: Shipley Donuts
Offer: Giving away free donuts with a purchase
Make sure you call or ask you local store to see if they are participating in the promo, if they haven't heard about it you may want to introduce them to it so you get a free one next year.