Free Dog Chew Bar W/P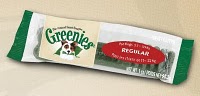 Greenies are giving away free dental chew bars for dogs!
Customers do need to make a purchase for this one, you need to buy one of the individually wrapped canine Greenies Dental Chew bars, then they send you a coupon for you to get another one free (up to a $4.49 value). And apparently they are the #1 vet recommended dental chew. Don't forget to fill out their form to claim the freebie. This link below is for the Canada freebie only.