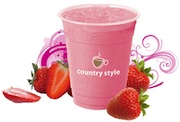 Tomorrow visit a participating Winners store and get a coupon to get a free small Country style smoothie or frozen latte. The coupon for the free drink is valid until Saturday July 23rd, so don't wait too long to use it. Click on the below link to find the select participating Winners locations. If you were planning to go shopping tomorrow, don't forget to stop by the nearest Winners to grab your coupon and enjoy a free drink at Country Style. No purchase necessary.
Find the participating Winners stores
~ The coupon or offer is no longer valid, please use the search feature at the top of this page to find new offers
Has anyone tried the smoothie from Country Style? What did you think about it? Is it better then the real fruit smoothies from Tim Hortons? By the way you can still grab a Tim Hortons' iced coffee for only $0.99 if ever you feel like having an iced coffee today. That's a lot cheaper then other cold coffees you could get from Starbucks or Second Cup for example.