Apparently this offer comes live from time to time. So if you don't manage to get this freebie this time around, try every once in a while to see if it's valid.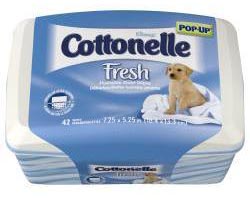 I regularly have some sort of wet wipes on hand when I go traveling or on long trips, even car journeys. When water and soap might be in short supply. So for those of you like me and have a bit of a germ phobia or if you have kids (which is what these wipes are intended for) then you will love this freebie for a FULL SIZED pack of Cottonelle fresh flushable moist wipes. It takes about 3-4 weeks for the box to be delivered, but even the shipping is free (and everyone loves a freebie).
We have to give Cottonelle a big thank you for this freebie. We need more stores to offer this in Canada, we see way too many offers being pushed to American's but us Canadians sometimes get left behind, so well done Cottonelle. If you ever want to list your freebies on this website please get in contact with us.
Get your free wet wipes from Cottonelle here
The form takes about 2 minutes to fill in (unless you have the google auto-fill in your tool bar, then it's a lot quicker). What I wasn't a big fan of was that you NEED to enter a 'friends' details on the third step of the process, I guess this is their way of making this promotion viral. If you know of a friend that would definitely like this promotion then please email or ask them before putting their details in this field, otherwise it's not cool. Or if you really don't know anyone you can recommend you can always put your own second details or that of a family member. Once you have reached the end of the process there is a quite funny video that we recommend you watch the entirety of.