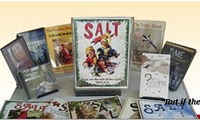 This magazine is certainly not for everyone (probably including me). The SALT magazine is all about encouraging and inspiring Christians to live their faith, day to day tips, articles and more. I am not the most religious of people but if I was then a freebie within the religion I practice may interest me.
I always believe that day to day tips on real life examples of things that challenge faith is important, if just for the mind.
So if you want a free copy simply follow the link below to claim the freebie.