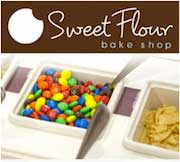 Who doesn't like a free cookie? Well this is precisely what the Sweet Flour Bake Shop in Toronto is offering right now. Obviously not everybody lives in Toronto or more precisely near the Bloor West Village where the Sweet Flour Bake Shop is located, but if it is the case for you, just follow the link below and claim your free customized made-to-order cookie. This will allow you to save $3, this is taking for granted that you can resist buying a dozen after tasting one. Good luck!
Claim your Free Sweet Flour Bake Sop Cookie
I don't know about you but I think that there is such a big difference between cookies you buy at the supermarket and home made style cookies. The flavor and the texture simply don't compare. Too bad I don't live in Toronto, I would definitely try these cookies out. At elate I can tell my friends about it.