Free Christmas Labels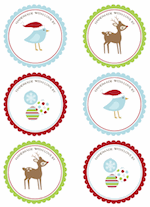 Christmas is coming really fast and as usual it's going to cost us a lot more than what we originally thought ;). Unless you stick to your budget, which normally never happens in my situation, as there are always so many surprises that I didn't plan. I just found this nice freebie that will allow you to save a few bucks on Christmas labels. These printable labels are designed by InkTreePress and you can now get them for free. You only need to print them, and then you can use those cute labels to tag the tons of gifts you have to wrap. They look as good as anything you could buy in store if you ask me.
They recommend that you download Adobe Reader 9 if you don't already have it to be able to optimize them and to have access to all of the functions. They are compatible with every OS so you shouldn't have any problem if you're a MAC, PC or even Linux user. You will also be able to personalize the labels and to change the fonts, which is great.
Click here to get your Free Christmas labels