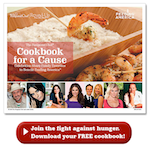 The Pampered Chef has a new free book available for download entitled the "Celeb Cookbook".
Download Your Free Celeb Cookbook
The download is in a good cause. For each cookbook downloaded Aug. 1 through Sept. 30, 2010, they'll donate one meal to Feeding America (up to 140,000 meals). This year, their goal is to donate 10 million pounds of food. By downloading this exclusive cookbook, you play a big part in reaching that goal.
The meal guides and recipes includes the family favourites from some of the hottest celebrities including Courteney Cox, David Arquette, Mario Batali and more.
The cookbook isn't huge (12 pages), but it has some really nice recipes.