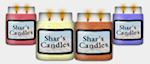 Shars Candles are giving away free samples of their candles in Canada. This is a super small Canadian company, and they do request loads of info like email and phone number. The free sample will not be the full size, it will be trial size (you can't have everything).
Get your own free candle sample
I am not sure you can even buy candles at their store which is strange.
T&C's: "Fill out our form to receive a Free Scent Sample by Mail. One (1) per household. USA & Canada Only. This is a business for me so if you cannot offer your real name, valid e-mail address, phone number or mailing address – PLEASE DO NOT fill out the form. The scent samples we send can be put into a tart burner / wax warmer so you can experience our strong fragrances. I'm sorry that it won't actually be a full-sized candle you can light – but with the hundreds of sample requests we can receive per week – this is the most cost effective way we can share our natural gourmet scents."