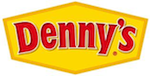 This is a cool promotion, just for joining the Denny's Rewards Club you can get a free burger and fries!
More detailed info:
Denny's has started a rewards club. Just for joining, you get points equal to $10.00 FREE on a burger and fries meal. After that, you get 1 point for every dollar spent at Denny's. Every 200 points collected gets you a $10.00 meal discount.
So it looks like you get a $10 coupon for every $200 you spend at Denny's too from now on if you are a rewards club member. Not bad if you are a semi regular. And great for those that don't go often, just join, get your $10 coupon to spend on burgers and fries and away you go with your free meal!