Free Boss Bottled Night Fragrance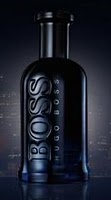 Most of the Hugo fragrance samples and promotions we get are rubbish, I received one today which was a sheet of paper you pull a metal cover off to smell the fragrance. But you can't really use this to try it out on your own skin. I hope this free sample of Boss Bottled Night Fragrance is better and actually has a container.
The smell is meant to give you an irresistible masculine smell. Intense aromatic accords make the wearer feel seductive and ready to conquer the night. Top notes of birch leaf and cardamom are grounded by woody base notes to give the confident and successful BOSS man a distinct masculine charisma.