Free Allergy Answer and Welcome Kit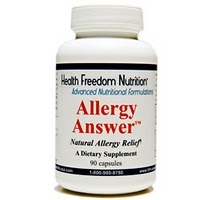 And another freebie today. This freebie ships worldwide, make sure your click international. I have never heard of an "Allergy Answer and Welcome Kit" but apparently this is a healthy alternative to allergy medications. Allergy Answer acts as a natural antihistamine from which you can expect relief of allergy symptoms such as sneezing, runny nose, and watery eyes in a few hours.
Once you sign up you will get a free trial bottle of Allergy Answer and a free Health Freedom Nutrition Welcome Kit.