Estee Lauder Freebies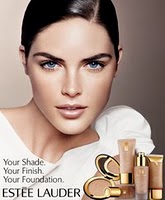 Anne should really be writing about this freebie, because to be honest I have never used foundation (even though some guys actually do now) so this frebie doesn't really appeal to me, but Anne thought it would be funny for me to write about it. Anyway getting on with it, Este Lauder are giving away a free 10 day supply of their foundation for people to try out. Customers do need to visit an Estee Lauder counter however, so you have to use your legs for this free makeup offer, and the deal ends on Oct 31st of 2010.
Aparently their new "iMatch System" will help find the right shade of foundation for you, so no more orange face (I like it). So after you take the test, they give you a 10 day supply of the most ideal liquid foundation in your shade for free, no purchase necessary, but you may want to read more info on this Estee Lauder Freebie. And to help you out a bit I found this cool widget which will help you find your nearest Estee Lauder counter.