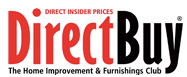 After watching an advert on TV the other day I thought I would do a write up about this initiative: Direct Buy Canada.
DirectBuy is a club to get the best prices for home furniture by avoiding or by-passing the middle man (the retailer). So you are purchasing direct from the manufacturers or their suppliers. And best of all they are running a promo to get a free 30 day trial of their membership, we recommend you check this DirectBuy Free Trial here. This company has actually been around since 1971 but has only recently grown to massive strengths after the recession hit and people started researching cheaper ways to shop for home furniture, whether it be kitchen, bedroom, bathroom or other rooms in the house.
Until Feb 1st 2010 you can take advantage of the Canadian tax break (15% tax credit) on home remodeling projects. And DirectBuy Club helps consumers through the process.