This article is about Carbonite (www.carbonite.com), what they do, why this is useful and some Carbonite offer codes to help you save money, we also have a free trial to see what they do without paying for it. There is not much written about Carbonite for Canadians so we thought we would take this opportunity to review the brand for you and make some unbiased comments. As always we like to hear your opinion, share your thoughts and experiences with carbonite with us. Also, we recently added a Mozy Review with a 10% off Promotional Code if you are interested in comparing the 2 brand which are renowned as the best 2 in the market for online backup. And a new find is NovaStor that also run windows backups, we have a 20% coupon for this company.
Carbonite Offer Codes
Carbonite Review
They launched not to long ago back in 2006 and started selling back up space for a flat price not only for consumers but for small businesses too. Their site didn't really take off until the start of this year, now the site is massive. Quite amazing that they have restored backups totalling 2 million files for people that would have been lost for one reason or another (i.e. theft of hardware, hardware crashes).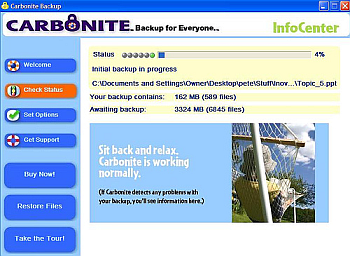 Having a backup on a server is all good and well, but we tested how easy it was to actually use their interface, this is what we found; Carbonite will automatically backup your computer (PC and now Mac) files which is something we didn't expect but appreciated, it also works in the backgroud so it won't affect your computer's performance. Remembering to back up is not on everyone's list of priorities, so they get the thumbs up for this one. Their interface was easy to use and we opted for the Carbonite free trial to see how comprehensive it was. We didn't need to ask any questions from customer service, we found the support documents and interface extremely user friendly and intuitive. You have to download the software, but it only took 2 minutes for us which again gave them another point.
In terms of price Carbonite are not bad either, now there are cheaper alternatives our there, we found that Carbonite sat in the middle of the pack in terms of price, but you also get what you pay for. At $54.95 per year standard and $99.95 for 2 years you get easy to use software that you can just forget about. When it comes to trust we found that Carbonite was recommended by PC World and CNET.com which carry as about as much authority as you get, that's like getting the gold seal of approval in my book.
When it comes to restoring your data, we tested it and restored 300 files in 3 clicks, not bad. We used a mixture of photos, music, emails and random word documents which were all returned with no problems.
Some Cons of Carbonite:
– Does not currently support network or mapped drives.
– When performing backup, system omits videos by default, you have to manually do this.
– Telephone support lines are often busy and support emails could be more informative.
Why we chose Carbonite
Hardcore members of this site will know that I was broken into and all my stuff was taken, including my computer, so I had no backup and now it's a nightmare trying to do pretty much anything, so in that spirit we went hunting for backup software so this kind of thing can't happen to us again, or not have the same affect on us at least. We found Carbonite to be the easiest to use (from 5 top brands we tested), relatively you get the best value for money and we trusted them with our most sensitive data.