Calendars are handy for a lot of things, from keeping track of what day it is when you're a student on vacation or managing one's bills to make sure they're all paid on time.
Either way, it's not often that a calendar is offered that is both free and stunning with pictures of Canadian wildlife.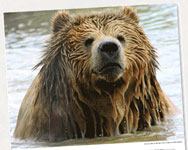 While supplies last, become a supporter of the Canadian Wildlife Federation and receive a free 2014 calendar once the new year rings in. This way, you won't even need to worry about overpaying once January 1st rolls around.
Donations are of course encouraged and they do benefit the Canadian wildlife, but these are not required for the free calendar.