Few people know about American Eagle's little store called Aerie Canada and even fewer people know about heir promotion called the A-List card that get's you free gifts monthly. You have to pick up your free gift on a Thursday but the cool part is that on that day you pick up your gift you can get a 20% reduction on any purchase you make in the store (no purchase necessary though), plus you get a free gift on your birthday. Every month is a new gift, you can get items like underwear, candles, stationary and the like.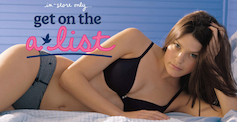 You need to print this coupon to get a further 15% reduction at Aerie. And use this Aerie store locator to find the store nearest to you, you need to sign up for the A-List card in store.
I have never heard of a promotion like this before; it is completely different; we need some testimonials!