Get ready to rumble for the WWE's annual professional wrestling match, WrestleMania,
on April 7th, 2013, with the best fan gear from their official store. Only with VoucherCodes' exclusive code can you save $5 on orders of $30 or more just in time to show your support for the mega-event.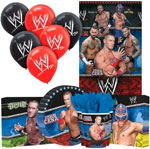 During the 2013 WrestleMania, John Cena will be facing off against the legendary The Rock for the WWE Championship. The major question arises then: will The Rock win a second year in a row against Cena?
Whether you'll be exclusively rooting for one or the other, the WWE Party Package featuring John Cena and the Rock I Bring It Standee are must-haves for all fans. Both are ideal and almost even necessary for any wrestling man-cave.
Did you miss a couple of fights? No worries, just like with our smashing WWEShop promo page, you can catch up on all of the action with the 2012 DVD collection, which includes 14 DVDs from the WWE Elimination Chamber to the WWE TLC. Already reduced by an incredible $148.87 to $99.99, each DVD comes out to the rock-bottom price of $6.79 after applying our exclusive $5 coupon.
For those with kids, it's never too early to start training them to love the WWE and better yet, it can be done in style with the $14.99 Zach Ryder Sssiiiccckkk Youth Wig, a superstar with an inspiring message:
Ryder showed that, although he can be a goofball at times, he's more than willing to step up when called on to deliver the win.

We'd love to hear from you! Let us know in the comments below who you think will win during WrestleMania 29.