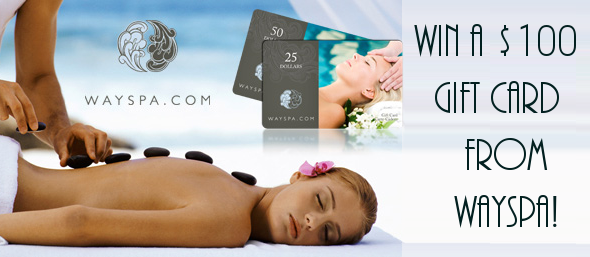 Think about everything that your mom has done for you: she nursed you, put up with your "terrible twos", kissed away bruises and wiped tears away. It's time to pay her back with a day of relaxation and comfort in the form of an amazing spa day. We've teamed up with our good friends at WaySpa for the ultimate Mother's Day present: a $100 gift card for WaySpa. Since the card is accepted at thousands of locations all over Canada and the United States, the only decision you (or whoever you give it to) will have to make is which spa or fitness center to visit.
Interested in a little rest and relaxation of your own? No problem! Enter for a chance to win a spa day for the best person you know, yourself. I know this is something that would be hard to share!
How To Enter
What's the best gift you've ever given your mother? Alternatively, what's the best gift you have ever received? Little, big, epic or just thoughtful…we want to hear it all! Comment below to let us know.
What kind of contest would this be without the chance at bonus entries? Share this contest post on Facebook and you will gain a second entry into this fabulous giveaway! Make sure to comment below to say that you've done so or your bonus entry won't count.
Are you ready? You have until May 6th at midnight to enter. Now get to posting!
Rules
Participants must be 18 years old and older
Canadian participants only
The contest ends on the 6th of May 2013 at 11:59pm EST. No entries will be accepted after this time.
The winners will be chosen randomly in May 2013 and will be contacted by email. Entrants contact information will remain confidential, it won't be shared and it will not be visible to anyone other than VoucherCodes.ca's team. Please refrain from leaving any personal information other than your name and email address in the comment section.
VoucherCodes.ca reserves the right to change all terms and conditions of the competition at any time.
This competition is not connected to Facebook and is in no way sponsored, endorsed or administered by Facebook. Facebook does not receive the information submitted by the participants; this information is instead collected by VoucherCodes.ca as operator of the VoucherCodes Facebook page (henceforth referred to as "operator"). The information collected is used for competition purposes only. The operator – and not Facebook – is solely responsible for the content of the competition. Facebook is in no way associated with this competition. Facebook can assume no liability for or in relation to this competition.