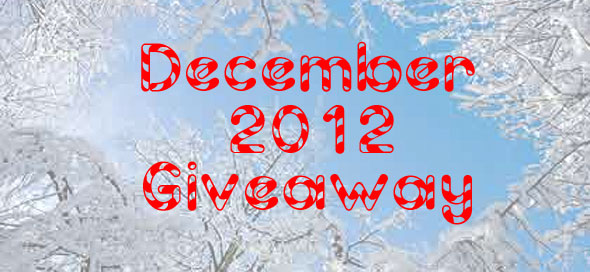 Make sure to like our Facebook page!
The December 2012 Giveaway is now CLOSED.
A big thank you to everyone for participating!

The winners are:
1. Planet Ring: Chad Westcott Carissa Kasper Danielle Helsby
2. Hyacinth Necklace: mcmc
3. Laureen Ring: Areta @awabia

Please e-mail contact@vouchercodes.ca to claim your prize!
The holiday season is already upon us and what better way to celebrate than with a contest? In partnership with Swarovski, VoucherCodes.ca is happy to present the December 2012 Giveaway. Enter for a tripled chance to win Swarovski jewelry, valued at $480 in total: the Planet Ring, the Hyacinth Long Necklace, and the Laureen Ring. Below, you will find directions on how to enter for each item, which means that if you're lucky enough this December, you may just win all 3.
1. Planet Ring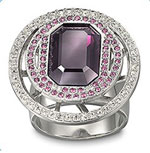 Emphasized with tiny crystals all around and a stunning Amethyst crystal in the middle, the Planet Ring is the perfect conversation starter for any party as it adds just enough glimmer to any outfit.
Share with us on our Facebook contest page how you celebrate the holidays? Feel free to use the following ideas for inspiration:
How do you decorate your household (store bought or DIY)?
Do you go on vacation?
Do you have a major holiday feast or is it low-key?
2. Hyacinth Necklace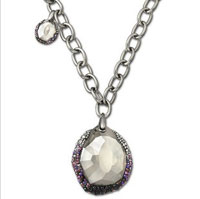 Featuring a Baroque-style Moonlight crystal, this magnificent necklace is sure to be a favorite for that lucky lady in your life. To enter for your chance to win the Hyacinth Necklace, subscribe to VoucherCodes.ca's Canadian Coupon newsletter and then comment below with your gift idea(s) for the holidays.
First:
Second: Comment below with your budget-friendly gift ideas.
Example: "Hyacinth Necklace: Subscribed to the newsletter! As someone who is on a tight budget, I would suggest something that you can do yourself — maybe a candle holder or jewelry box".
3. Laureen Ring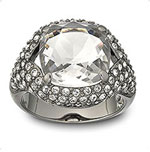 With a black diamond crystal in the middle, the Laureen Ring is the perfect accessory to any outfit: whether to glam up an office outfit or to wear for a night out on the town.
To enter for your chance to win the Laureen Ring, tweet us @CouponsCanada and tell us which store is your favorite to get coupons from? Be sure to include the following hashtag in your tweet: #VCdecGiveaway.
Visit our A-Z and category pages for store ideas.
Rules:
Participants must be 18 years old and older
Canadian participants only
The contest ends on the 31st of December 2012 at 11:59pm EST, no entries will be accepted after this time.
The winners will be chosen randomly in January 2013 and will be contacted by email. (Entrants contact information will remain confidential, it won't be shared and it will not be visible to anyone other than VoucherCodes.ca's team). Please refrain from leaving any personal information other than your name and email address in the comment section.
VoucherCodes.ca reserves the right to change all terms and conditions of the competition at any time.
This competition is not connected to Facebook and is in no way sponsored, endorsed or administered by Facebook. Facebook does not receive the information submitted by the participants; this information is instead collected by Vouchercodes.ca as operator of the VoucherCodes Facebook page (henceforth referred to as "operator"). The information collected is used for competition purposes only. The operator – and not Facebook – is solely responsible for the content of the competition. Facebook is in no way associated with this competition. Facebook can assume no liability for or in relation to this competition.
Shopping for the holidays? Check out our list of the best Christmas deals and Boxing day coupons.