Both hardcore and occasional players alike are certain to find an enjoyable game to pass the time with at WildTangent Games. In fact, we challenge you to play their Top 100 games and to help you out, we have a VoucherCodes.ca Exclusive to save 50% off on any game!
Stay tuned for even more of WildTagent's games with our page dedicated to their discounts.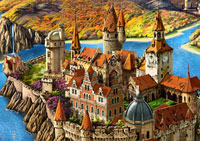 Among the Top 100 games at WildTangent is Chronicles of Albian 2, which centers around helping Gwendolyn, the Fairy Godmother, prepare of the Official Convention of Magic Masters by finding hidden treasures and repairing the castle.
Another Top 100 game is Awakening: The Dreamless Castle, which is reminiscent of Sleeping Beauty combined with Beauty and The Beast. The goal is to maneuver around the castle by finding puzzle pieces and solving puzzles to ultimately discover the character's destiny.
WildTangent Games also has a variety of Brain Power Games such as Mahjong Secrets, which adds a clever storyline to the world famous game.

Will you play them all?