In collaboration with Christine Charlebois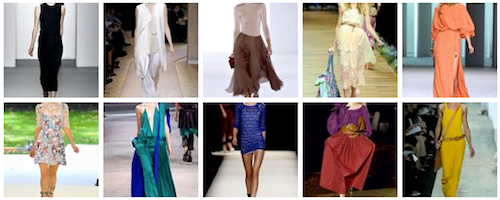 Spring is one of my favorite time of the year because the birds are back from the South, the weather finally gets a bit warmer and the most important thing: spring fashion collections are back. Which means that summer is right around the corner. Fashionistas, just like me, don't wait too long to take their superb high-heel leather boots, colourful handbags and casual suit out of their wardrobe.
So according to Christine Charlebois, an upcoming Canadian fashion designer currently working in Bruxelles, here are the top 5 must-haves of the season that you absolutely want to have and that will allow you to shine this spring.
1- Bright Colors: Either you go for a full colourful outfit or simply for a little touche, bright colours are absolutely a must of the season. Opt for bright yellow, coral, aqua green or orange.
Check this Marucelli silk satin stole at Luisaviaroma.com
2- Laces: Reveal yourself! Go for lace backs that will allow you to be sexy but chic at the same time. Laces are back and we like it!
Check this Brea yoke tank from BananaRepublic.ca
3- Skirts: The long skirt is back! Wear it light and transparent with flats or high-heel shoes. It simply reveals the ankle and will give you a super chic style! That's a 100% guarantee by Christine.
Check this long dress from SSENSE
4- White: All the designers agree, white is going to be everywhere this season. Jeans, dresses, handbags, accessories, skirts… Mix white with the bright colours to get a superb fashionable outfit.
Check these L.A.M.B. tuxedo skinny pants from Shopbop.com
5- Yves St-Laurent: The Paris exhibition inspired the contemporary fashion designers from all over the world. Sahara looks, Laces, oversized curls were back on the runways and they are certainly going to be back in the streets.
You're now ready to go shopping and fill in your wardrobe for spring! Stay posted for more advice on 2011 fashion trends.
Many thanks to Christine who's just back from Paris Fashion week and took some time to let us know about the latest trends for 2011. You can always follow Christine's blog to check her latest works and projects.