With spring comes spring cleaning, but why splurge on cleaning products, when you can actually save? Until April 14th, 2013, or while supplies last, save 30% on Dawn, Mr. Clean, Swiffer, Febreze and Cascade products at Well.ca.
If it's your first time shopping at Well.ca, don't forget to use our VoucherCodes.ca Exclusive code to save $10 on your order.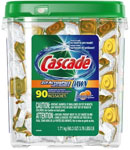 Reduced by over $5, the Cascade ActionPacs with Dawn are a great way to save during this sale and to keep your dishes spotless. Granted this only applies to owners of dishwashers, but perhaps those looking to invest in one, could benefit by stockpiling them? With 90 pods in the container, that comes up to $0.17 per dish load!
The best part about the ActionPacs is that since they require zero unwrapping, they are absolutely mess-free. Simply pop the pod into the dishwasher and you'll quickly be on your way to grease-free and sparkling clean dishes.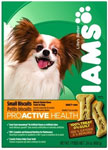 On a side-note, Well.ca has also discounted Iams pet food by 25%. With food and treats for both cats and dogs, quantities definitely won't last long as items are quickly selling out. Among a vast variety however, you could get the Iams Dog Small Biscuits as a tasty treat during those long evening walks.
No worries if you don't have a dog, a great idea is to get them as a gift for a neighbor, friend, or family member who has one. They also have treats for big dogs and cats.
Shipping is free to Canadian addresses on orders of $25 or more, so be sure to add a couple of cleaning products and pet treats to attain that easy-to-reach threshold.
How will you be saving at Well.ca this week?