With less than a month left, the time has come to get cracking on a Father's Day present that will blow the socks right off your dad. Here at VoucherCodes.ca, we're dedicated to providing you with the best opportunities to save not only on your own needs and wants, but also on those of your loved ones.
This is exactly why we have for you a VoucherCodes.ca Exclusive not to be missed: until the end of the month of May 2013, shop at Well.ca and enjoy $10 off orders of $30 or more.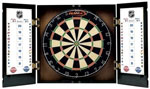 Since Canada is after all the land of Hockey, get your game-lovin' dad something he might actually love and use such as the official Regent NHL Dartboard Cabinet Set. Coming down to $119.99, it features a black finish wood cabinet with the NHL logo and includes all seven Canadian teams.
For the dads who can't go a single morning without their favorite cup of joe, a Keurig is the way to go as the perfect 2013 Father's Day gift idea. I have one and it was the best coffee-related purchase I have ever made and if anything, I wish I could have benefited from the VC Exclusive above!

Of course, as far as gifts for dad go, there's always the option of falling back on a timeless classic such as any items associated with skincare and since Adidas is a highly popular brand, then their after shave may just become your dad's favorite product. Since it's only $9.99 and you will need another item in order to benefit from the discount, we suggest you pamper yourself in the process — you deserve it!
Although the above coupon isn't applicable, there is also an ongoing BundleMania promotion allowing you to save up to 50% when you buy in bundles.
What type of dad is your father? The comedian, the tech, the sporty, etc. — let us know which one in the comments section below!