Nothing beats a lazy day just lounging in bed and catching up on a good book. Get one step closer to complete relaxing bliss with the right pair of pajamas; right now, you can save 15% off regular priced items at Bedhead Pajamas with this exclusive code. Our friends over there agree that the right pair of pjs make all the difference, and they want you to get your hands on the best of the best.
Don't forget that while you're relaxing, you should check out our BedHead Pajamas page for other pajama deals.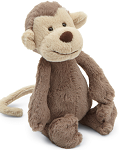 They have more than just luxurious pajamas; they also have huge stuffed animals! Take this monkey as a perfect example; it's $20 but with the discount, it drops down to $17. I'm a grown adult and I would still buy it!
The prices can seem daunting to some, but I think they are well worth it. Unlike fashions that fade in and out of style, your pajamas are never going to be considered out of fashion and they can last for years with proper care. I fell for this Red Puppy Love set because it looked simple plus was made from 100% cotton. Without the discount it is $118 but, when you add the coupon, it drops down to $100.30.
Shipping is a flat fee of $25 to Canada.