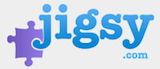 Update: Viviti has been rebranded and is now call Jigsy!
Viviti.com is an online service to create your website. Everyone has their own website these days so I'm guessing more than one person will be happy with this coupon code we have for you to get 15% off their services. They are using open beta which means that you can edit your website at the same time as you're looking at your site in your browser. Depending on the skills you have you might be able to create a website by yourself but blogging with an expert can always help to make your website stand out.
I've never personally used Viviti services but according to the reviews I've read it looks like a great service if that's what you're looking for. Check their website and don't forget to use our discount code below to save 15% off your order.
Promotion Expired!