Originally named "The Free People's Store", Urban Outfitters is a great location to shop for summer as its style centers around casual and easygoing trends. Though residents of Quebec will have to visit their local Urban Outfitters stores, the rest of Canadians can use the code below to save 10% off all orders.
Promotion excludes: electronics, furniture, bikes, print shop & gift cards.
Let us know on Facebook how you will be saving at Urban Outfitters.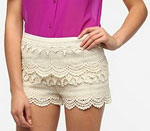 Considering you probably have more than enough jean shorts, get something more original for this summer such as the pins and needles lace shorts. Original to their core, they're sure to garner a number of compliments, especially during beer pong games with the pitcher set featured on the right.

Don't forget to accessorize this summer: the love ring, which can be yours for $9 will look lovely with just about anything, especially the lace shorts or any other outfit.