With styles on par with the latest fashion trends, Forever 21 is one of our bookmarked favorites, especially since prices are absolutely ultra-affordable. In celebration of Spring styles, save up to 80% during Forever 21'st fabulous and glitterific Spring Sale.
Shop Forever 21'st Spring Sale
Expires: Not provided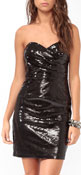 With Gary Glitter evicted from Big Brother Canada, the house dynamic will never be the same, but it doesn't mean that you can't inject a little glitter into your fashion! Reduced to $18.99, the sequined tube dress is a perfect reminder of the glittery fashionista that rocked the house with his outrageous styles and glitter throw downs.
For a more subdued fashion item, try the metallic Matelasse skirt and really, at $5.99, how can you not not hit the "add to your bag" button?
Guys, when your girl wears something as glamtastic as the dress above, it's time to bust out the shirt and tie and at $7.99, there's definitely no way you can go wrong.
Just in time for summer, inject some style into your fashion wardrobe with the stylish distressed fedora, featuring a pinched brim and available in dark brown for only $9.99.

Orders over $60 also qualify for free shipping and don't forget to stay up-to-date with Forever 21's promotions with our glamorous page with their coupons and sales.
We triple dog dare you to add at least 5 items to your cart!