Now that you finally got the hang of some of the new gadgets you may have received during the holidays, it's time to focus on the next step: accessorizing them. We have just the store to get everything for your new toy and our The Source coupon page has all the offers and deals needed to avoid breaking the bank. Check out the big savings event going on right now and see what you can pick up with up to 70% off.
Shop at The Source Here
Expires: 9th January, 2013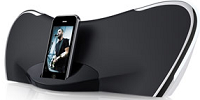 That new iPod/iPhone of yours is pretty rockin' but take it to the next level with this Coby Speaker dock. Pump up the jam, play your favorite tunes and charge your gadget with the built-in charger. Grab it for $59.99 and impress your friends with your favorite playlist.
Save a bit more by having it shipped to your local store for free!
How are you going to spoil yourself?