With a couple of weeks remaining to winter, Axl's Closet has released one last savings opportunity to keep kids bundled for the colder temperatures. Shop the semi-annual sale to take advantage of up to 60% off on snow gear: from hats, mittens and even the most efficient of winter coats, Axl's Closet has you covered (literally speaking!).
Shop at Axl's Closet
Expires: 28th February, 2013
Make sure to stop by the Axl's Closet coupon page for a larger list of deals.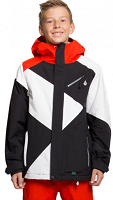 Axl's Closet's selection consists of well-known brands along the lines of the Volcom insulated winter jacket featured on the left. Beginning at $95.94, the winter gear boasts innovative technology such as a zipper joining the coat and pants for better insulation, a grow-tech system that grows along with the child, and even a face guard for the ultimate neck and face protection from the cold wind.
Long underwear is also in abundance in their sale section to add an extra layer of protection. This girls long underwear is on sale at $27.50 and, besides being interchangeable with other pieces, also has a quick dry technology to absorb moisture and keep skin dry.
Have you purchased from Axl's Closet yet? What did you think?