Buytopia is awesome for a couple reasons. The first one being the contest to win a pair of Ray-bans sunglasses that we're running in partnership with them (if you haven't entered yet, what are you waiting for?). The second reason being their amazing sale for Porter Airlines: for a limited time, save up to 50% off on base flights with their unique promo code.
If you have been looking for a sign to take a trip somewhere, this just might be it!
To activate this deal, you have to go through the Buytopia.ca site and click the "Buy" button. It will auto-magically direct you to the correct Porter Airline page.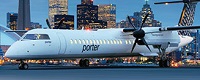 Porter offers flights to multiple locations around Canada and some in the United States for a fraction of the price and double the luxury. They have never, ever, done a deal like this before and with over 2000 customers who have taken advantage of the offer, you can see why it's popular! Get spoiled by one of the best airlines in the country and enjoy first class service for next to nothing.
Buytopia.ca is a fantastic site that offers discounts on local and nation attractions, and even occasionally offers free items for you to enjoy. Don't forget that our Buytopia.ca offer page is filled with deals to tickle your interest.