Does your kitchen need a makeover? Does your bathroom need a bit of sprucing up? Make it all possible at Wayfair during this gigantic clearance sale! Fulfill all of your home decorating needs by styling your home to suit your personality. Let our Wayfair coupon page help you save even more.
Shop at Wayfair Here
Expires: Not Provided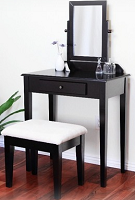 Every little girl and little woman should have a place to call home for her massive amount of jewelry and/or makeup.The contemporary vanity set featured on the left is just the right fit: with an added bench, mirror and drawer to hide the more personal items, it can adorn your space for $60.90.
Wrap yourself up in warm towel with this nifty Towel Warmer for $42. After being placed inside a medium-sized bin for 20 minutes, towels come out ready to envelope you with fuzzy warmth and coziness.
Shipping is free on orders of $69 or more, or it's a flat fee of $8.99. That's including free shipping on even the huge items!
What are you going to pick up for your home?