Have you been feeling a little naughty this year? Or would you rather let your nice side show a bit more? Combine both sides and unleash them unto the
epic Winter Sale at La Vie en Rose. Our dedicated coupon page is looking to hook you up with the chance to save up to 50% on select items.
Slip into something a bit more comfortable and let your beauty shine through in whatever you may choose to wear.
Shop at La Vie en Rose Here
Expires: While Supplies Last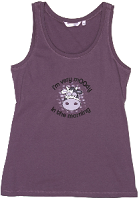 Quantities are limited and if you blink, you might miss out on something truly fancy!
I'm completely and madly in love with this purple sleep cami that says "I'm mOOdy in the morning" because it describes me perfectly. I'm a grump until I get that first taste of coffee in the morning! This shirt is going to be mine for the sweet, sweet price of $9.99.
Mix and match the sleepwear and pair your new mOOdy shirt with these lacy cotton pants that are made for the ultimate girly glamor. Make them yours for only $9.99.
What is your favorite item is from this sale?