Wait no longer to book a dream spring vacation to the spot of your choice. Choose your ideal destination at Travelocity Canada and enjoy up to 45% off for a limited time. Book a flight, hotel or both with ease thanks to their system and travel to the hot, sunny location of your dreams.
Shop at Travelocity Canada
Expires: 30th March, 2013
We also have multiple other deals on our Travelocity Canada coupon page for your viewing pleasure.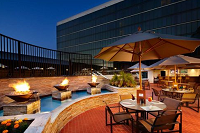 Have you been thinking about visiting Disneyland in California? Make it happen with the Hilton Anaheim located one block away from the theme park. With gorgeous rooms and outstanding decor, this will surely be a good place to rest your feet after a day at the park. The prices for a stay here range from $111 to $180 a night.
Another choice in the Anaheim area is the Anaheim Marriott, which has gathered stellar reviews. The rates are considerably lower at the end of March, with prices as low as $130.
I've always has a good experience when booking through Travelocity. What are your experiences?