It's time to put your extreme couponing into action and really watch the discount come raining in! With a bunch of sales going on at Penningtons right now, ranging from BOGO deals on panties to sleepwear sales, pile on the rebates with this code to save up to 30% off your order.
Why don't you give our Pennigntons coupon page a little love and go visit and snuggle with it?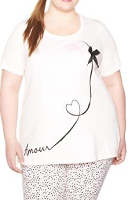 Intimidated by the amount that you would need to spend to get the discount? This is the perfect time to combine orders with friends and family! My friends and I regularly pool our orders together to get even bigger discounts and other bonuses.
Snuggle up to your favorite person or animal in this Amour screen print top featured on the left. Grab it for $18 and pair it with your perfect sleepwear pants. Why not these lace waistband pj pants at $18 as well?
Every girl should have a clutch just in case and you can pick up this metal Clasp wallet in a multitude of colors for only $4.97. That's crazy!
Have you ordered from Penningtons yet?